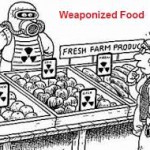 Research findings by the National Institute of Nutrition (NIN), Hyderabad, on the harmful effects of freshly irradiated wheat fed to mice and men, in the mid-'70s, had indicated that irradiation can cause malignant changes in the blood cells. Its observations were reconfirmed by laboratories in West Germany and the UK. Indignant BARC scientists bitterly contested the NIN findings.
"The reservations about food irradiation all over the world should not be lightly brushed aside," warned Dr C. Gopalan, former chief of the Indian Council of Medical Research (ICMR) and president of the Nutrition Foundation of India.
But the intervening expert technical committee appointed by the Government, and headed by Dr M.S. Swaminathan, left the issue unresolved. Dr P.V. Sukhatme, a statistician, and Dr P.C. Kesavan, a geneticist, who were later appointed to investigate the data did not recommend clearance of irradiated food for human consumption.