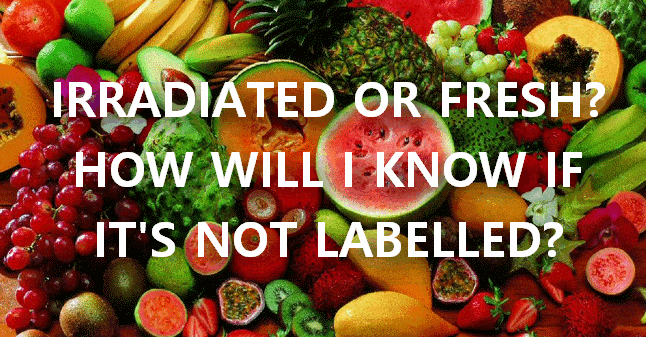 Take action now!
Food irradiation is a cleanup technology used to cut costs and cover up industry's poor management practices, including fruit fly control. On their behalf, our governments want to remove the present requirement to label so you are ignorant of irradiated foods and their impacts.
Irradiated fruits, vegetables, herbs and spices are all now labelled so you know they are processed, not fresh. But the food regulator (FSANZ) and the Food Forum (Ministers of all state, territory and NZ governments) fear you will not buy irradiated food if it is labelled.
FSANZ and the Food Forum already approved 24 fruits and vegetables for radiation energy exposure of at least 1.5 million chest x-rays. Apple, apricot, bread fruit, capsicum, carambola, cherry, custard apple, honeydew, litchi, longan, mango, mangosteen, nectarine, papaya (paw paw), peach, persimmon, plum, rambutan, rockmelon, scallopini, strawberry, table grape, tomato, zucchini (courgette) are approved. Blueberries and raspberries are next.
This 'nuclear cooking' controls fruit fly worms and extends shelf life. It can also neutralise but not remove some food contaminants. But some vitamins and nutrients are affected while, at some radiation doses, toxins and carcinogens may be created. Mystery still surrounds the irradiated feed that killed and maimed many Australian cats, and is now banned. 
Most other countries require irradiated food labels, prescribe label wordings and are not reviewing their requirements. Aussies and Kiwis must not be kept in the dark.
To make a more personal comment to FSANZ email:submissions@foodstandards.gov.au by March 29, 2016. Use any format but mark your comments: "Submission on Rec 34: Review required labelling of irradiated foods". More info: https://tinyurl.com/heba8a7